By Emily Cardenas Mar 10, 2021 (Source: www.miamitimesonline.com) – Congressional Black Caucus members are reportedly pushing for Shalanda Young to replace Neera Tanden as President Joe Biden's choice to lead the Office of Management and Budget (OMB), and for good reason.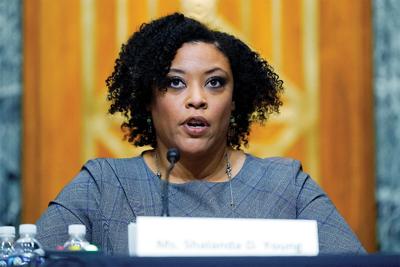 The native of Baton Rouge, Louisiana, who serves as clerk and staff director for the House Appropriations Committee, is being supported by numerous Republicans who have otherwise shredded, demeaned and denigrated some of the president's other minority picks.
As staff director, Young already oversees $1.3 trillion in annual appropriations bills.
She moved to Washington, D.C., 20 years ago to serve as a presidential management fellow at the National Institutes of Health. Young holds a master's degree from Tulane University and a Bachelor of Arts degree from Loyola University New Orleans.
Tanden was "dead on arrival" with regard to her OMB nomination after deleting more than 1,000 insult-laden tweets attacking GOP senators and Bernie Sanders. During Sanders' 2016 run for president, she called him "Russia's choice" against Hillary Clinton.
During the confirmation hearings that ended with Tanden removing herself from consideration on March 2, she said "I feel terribly" about the attack tweets and that "I must have meant them, but I really regret them."
Sanders opened the hearing noting that Tanden had attacked liberal colleagues in addition to Republicans.
"Your attacks were not just made against Republicans. There were vicious attacks made against progressives, people who I have worked with," Sanders said. "We need serious work on serious issues and not personal attacks on anybody, whether they're on the left or the right."
It was obvious on the first day that Tanden was doomed. Frankly, Biden and his team should have known better than to nominate such a polarizing individual. Biden's entire presidential campaign was built on a message of unity, pledging to bring civility back to America and the White House. After four years of the venomous-tongued Trump, Tanden was the wrong horse to back by a president who exemplifies good manners, dignity and decorum.
"You'll get my support. Maybe for both jobs," Graham declared, signaling Tanden's demise.
The White House said the president is still considering his options, but House Speaker Nancy Pelosi (D-Calif.) and Majority Whip James Clyburn (D-S.C.) have already thrown their support behind Young for OMB's top job.
In a joint statement released last week, Pelosi and Clyburn noted that they take great pride in recommending Young as OMB director as longtime members of the Appropriations Committee.
"We have worked closely with her for several years and highly recommend her for her intellect, her deep expertise on the federal budget, and her determination to ensure that our budget reflects our values as a nation," the pair wrote. "Her legislative prowess, extensive knowledge of federal agencies, incisive strategic mind, and proven track record will be a tremendous asset to the Biden-Harris administration."
The statement continued:
"Her leadership at OMB would be historic and would send a strong message that this administration is eager to work in close coordination with Members of Congress to craft budgets that meet the challenges of our time and can secure broad, bipartisan support."
Can I get an amen? She should have been Biden's first choice.
Emily Cardenas is the executive editor of The Miami Times. She previously worked as a producer at WTXF in Philadelphia and at WSCV, WFOR and WPLG in Miami.