By Johania Charles Miami Times Staff Writer – Election Day came and went in Miami-Dade without much fuss. Despite social media scaring people into grocery stores to prepare for isolation if violence materialized, the streets were calm.
It was an eerie quiet at polling places visited by The Miami Times. All the "Souls to the Polls" events, get out the vote caravans and visits by Joe Biden, Kamala Harris and former President Barack Obama appear to have succeeded in getting most eligible voters to the polls prior to Election Day. As of Monday morning, about 9 million of the state's 14.44 million registered voters had already cast ballots through mail-in voting or at early voting sites.
It didn't leave the U.S. Department of Justice with much to do as it monitored elections in six Florida counties on Tuesday, including Broward, Duval, Hillsborough, Miami-Dade, Orange and Palm Beach. According to the DOJ, the monitoring by its Civil Rights Division was not unique and was similar to previous elections. The agency was allegedly poised to take complaints through its call center about possible violations of federal voting rights laws. The Civil Rights Division enforces laws that prohibit voter intimidation and voter suppression based on race, color, national origin or religion.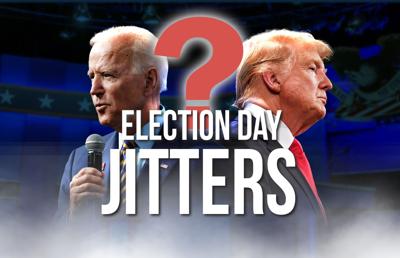 "Our federal laws protect the right of all American citizens to vote without suffering discrimination, intimidation and harassment. The work of the Civil Rights Division around each federal general election is a continuation of its historical mission to ensure that all of our citizens can freely exercise this most fundamental American right," said Eric Dreiband, assistant attorney general for the division, in a prepared statement.
Right up to Election Day, polls showed Republican President Donald Trump and Democratic presidential nominee Joe Biden in a toss-up in Florida – where Trump defeated Democrat Hillary Clinton by a little more than one percentage point in 2016 – and a number of other key battleground states as well. At press time, we still didn't know if Florida turned blue.
Throughout the course of the day on Tuesday, people at the polls expressed their concern about the outcome as they fretted about the unknown.
In Miami-Dade
As a federal judge ordered the U.S. Postal Service to sweep South Florida facilities for any remaining mail-in ballots to rush their delivery, last-minute voters braved the coronavirus to vote.
In Liberty City, resident Jasmine Arinah has been anxious about voting for the proper candidates to represent her community.
"We don't really have anyone standing up for us to get our issues to people in power who can change what's going on," she said.
Immediate neighborhoods surrounding the Liberty Square Community Center polling place were overwhelmed with signs representing candidates running for mayor and District 3 County Commission.
Among the majority of voters at the polling site, the overall consensus was that Keon
Hardemon and Daniella Levine Cava would be the best candidates to uplift the issues of their community.
"The community knows Keon," said Charolette Drayton, a poll greeter for Hardemon's campaign. "He's done so much for the community. We need the right person to do this job and not someone who will do it halfway."
Arinah felt the same, saying, "He definitely has my vote."
The county saw ongoing efforts to attack Election Day barriers through free meals, entertainment and volunteers staffing a voter information corner at several polling locations.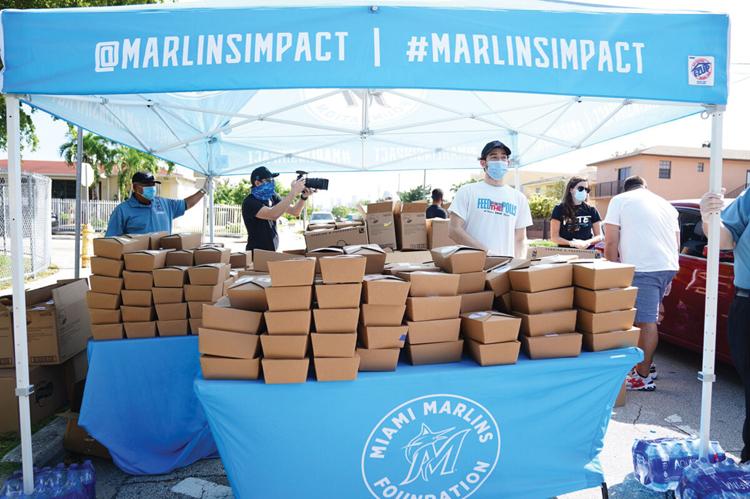 One nationwide initiative known as Feed the Polls distributed 4,000 meals in Little Havana and Liberty City, in partnership with the Miami Marlins.
"With everything going on right now around election, there may be so many barriers for people to vote and we just didn't want food to be one of them," said Marlins operations manager Ramona Faur. "[Liberty City] is an important community to the Marlins and we just wanted to honor that by being here."
Back at the majority-Black community of Miami Gardens, various groups offered support to voters.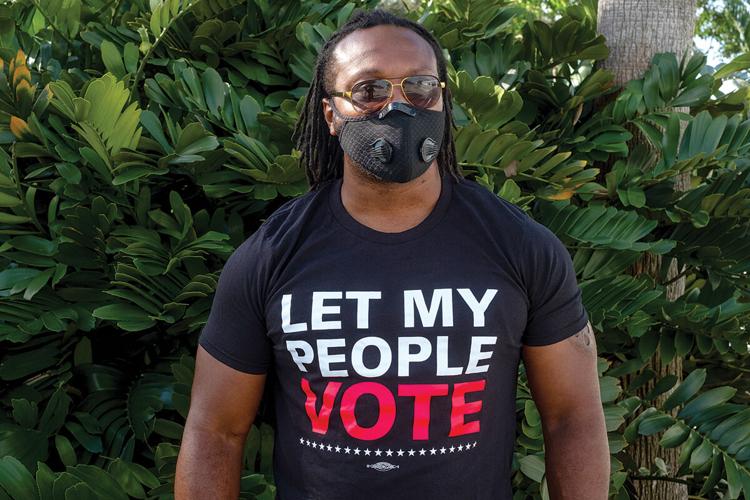 Pastor Marquise Hardrick of Trinity CME Church in Overtown showed up bright and early to North Dade Regional Library to monitor voter turnout and possible suppression tactics.
"My part is to ensure that things are running as smoothly as possible here by helping people find their right precinct," he said.
The Faith in Florida organization also accompanied him, offering entertainment, a food truck and PPE to voters.
"If things are going to change, it's going to start with the body of Christ," said Pastor Stephanie Russell, an organizer with the organization.
Russell also encouraged voters to be prepared for election outcomes.
"The outcome of this election is not the outcome of our life and our future. God is able to do above all we can ask. Although we hope for a victory in our favor, we're trusting in the Lord and not leaning to our own understanding," she said.
Meanwhile, former Republican state legislator, election attorney and St. Thomas University adjunct professor Juan-Carlos Planas reported incidents of voter suppression tactics at the Miami Gardens polling site.
Now a Democrat, Planas says a poll watcher from the Republican party would not allow voters to receive help in determining their proper polling precinct.
Christ the King Catholic Church in South Dade saw similar efforts as Trump supporters pulled up to the polling site to intimidate voters, said Planas.
"It's a little scary knowing that Trump supporters may try something after results, but we have to stand our ground and not let it intimidate us," said Arinah.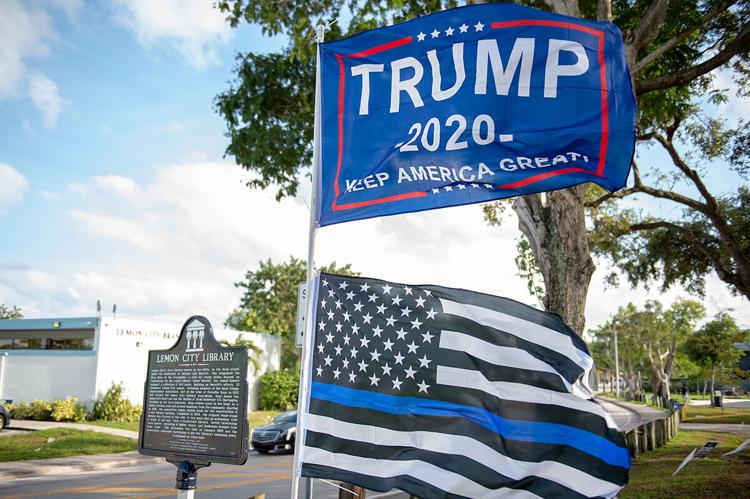 Across from the Lemon City library, The Miami Times spotted a Trump flag flying high above an even larger black and blue American flag known as the "Thin Blue Line." The controversial flag is hailed as a sign of police solidarity and criticized as a symbol of white supremacy.
Linda Julien, a candidate who was running for Miami Gardens Council Seat 5, was impressed by the turnout and hoped all votes would be counted before a winner was determined.
"The Haitian voter turnout has been amazing here. They came out in strong numbers. We're hoping for good results and want Biden elected, but we're also pushing people to educate themselves on policies for both candidates," she said.
The most common issue during Election Day was voters being rerouted to other precincts.
Ronald Symonette mentioned the constant driving back and forth could be discouraging to other voters like himself with a limited schedule.
"No matter what the turnout is, the work doesn't end here. The work continues after Nov. 3," said Mari Angela Cordero of the Family Action Network communication and advocacy team.
She motivated voters to be involved beyond just elections by having conversations with policymakers in their community.
Miami-Dade and Broward counties both reported higher than expected Election Day turnouts as of late Tuesday morning, but lines were either short or nonexistent at the locations visited by The Miami Times, with brisk business at the drop boxes for mail-in-ballots.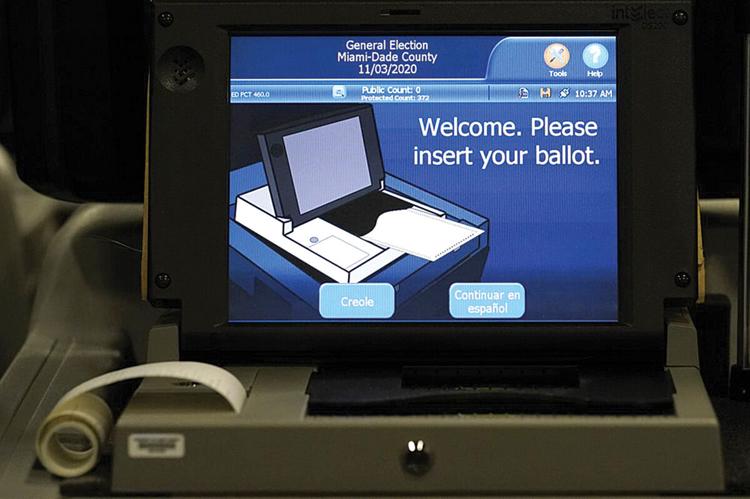 Nationwide outlook
Some cities did experience long lines early in the day, and there were sporadic reports of voting equipment issues and polling places opening late in a few Georgia and Ohio counties.
The Associated Press reported that federal authorities were hunkered down at an operations center just outside of Washington, D.C., watching for election interference, which had not occurred by midday.
"Today, in some sense, is half-time. There may be other events or activities or efforts to interfere and undermine confidence in the election. So I'd ask all Americans to be patient, to treat all sensational and unverified claims with skepticism, and remember technology sometimes fails and breaks," said Christopher Krebs, director of the U.S. Cybersecurity and Infrastructure Security Agency.
Meanwhile, election officials warned that millions of absentee ballots could slow the tallies, perhaps for days in some key battleground states. Additionally, Trump has threatened legal action to prevent ballots from being counted after Election Day.
Supporting that strategy is Mike Roman, Trump's director of Election Day operations, who organized a significant volunteer force to monitor Democratic-leaning areas. The former White House aide and veteran Republican operative got his start in politics by helping to persuade a judge to throw out hundreds of mail-in ballots by claiming voter fraud in 1993, resulting in a court ruling overturning election results and getting his candidate seated in the Pennsylvania State Senate.
Trump's path to victory
Trump has several paths to 270, but his best route hinges on winning Florida and Pennsylvania. If he wins both states and holds onto North Carolina and Arizona, which he narrowly carried in 2016, and also Georgia and Ohio, which he won in 2016 but is now competitive, he will win. With 29 electoral votes, Florida is arguably the most crucial state for Trump. A loss here would make it nearly impossible for him to retain the White House.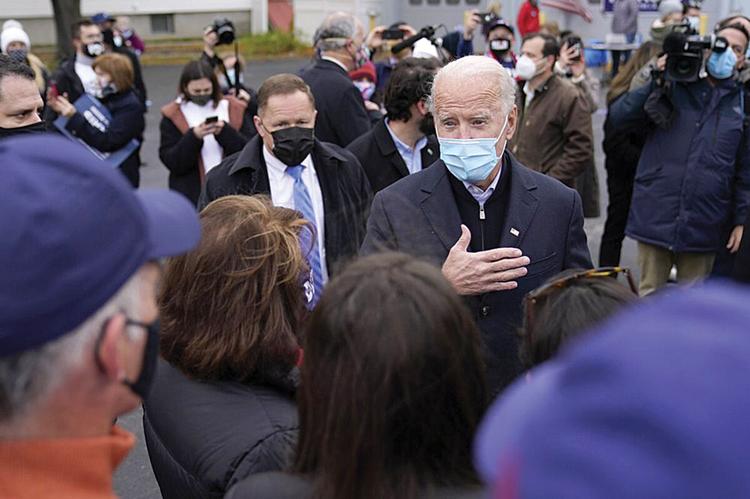 What Biden needs
Democrat Joe Biden's campaign is laser focused on states in the Midwest and those close by that Trump flipped in 2016 – Michigan, Wisconsin and Pennsylvania. He's also making a big play for Arizona, a state that hasn't backed a Democratic presidential candidate since 1996. Biden also redoubled his focus on Florida, the biggest prize among the battlegrounds and a state that would virtually block Trump's reelection if it goes blue.
For more on the original article: https://www.miamitimesonline.com/news/fear-of-the-unknown-heightens-tensions/article_966ac026-1e2b-11eb-b54c-af05f61da8be.html