The NBA generated $3 million in donations for HBCUs during this year's NBA All-Star Game, with every element of the event geared toward promoting those schools.
"It was part of the reason why we're here in Atlanta," said Adam Silver, NBA commissioner. "This was an opportunity to focus on the HBCUs."
Team LeBron went on to defeat Team Durant by a score of 170-150. With that victory, it raised $1.25 million for the Thurgood Marshall Fund. Team Durant raised $500,000 for the United Negro College Fund.
Michael Jordan's brand is recognized worldwide with Nike's "Jumpman" logo, a silhouette of the NBA great. The brand is nearly ubiquitous at the University of North Carolina, Georgetown, University of Michigan, University of Oklahoma and the University of Florida, to name just a handful, with UNC the first school to be featured in the campaign.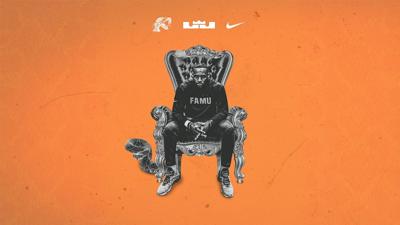 James, arguably one of the greatest basketball players of this generation, has entered a realm that previous legends never imagined, but now all athletes in the upper echelons understand their power and influence. In a precursor of the news to come, James wore an orange-and-green custom PE FAMU edition of his signature LeBron 18 sneakers during an NBA game, resulting in much speculation. It makes you wonder – will Bronny James Jr. play for the Florida A&M Rattlers when he selects his college? If it happens, FAMU would be in the Nike deal and in a great position to shake things up in the college basketball landscape.
Florida A&M Athletics subsequently announced a six-year agreement with Nike, making that brand the official athletic footwear, apparel and equipment provider for the Rattlers beginning July 1, 2021. Vice president and Director of Athletics Kortne Gosha, who was the former associate athletic director for facilities and operations at the University of Miami, has done nothing but hit the ground running since assuming his present role.
The Nike agreement will service the university's athletic department, all 14 of Florida A&M's sport programs and the Marching 100 band. The sportswear giant will supply all team footwear, uniforms, apparel and equipment. Teams will be outfitted in James-branded uniforms, apparel and footwear – including footwear designed specifically for the university – as part of the relationship.
The partnership also goes beyond supplying some of the most iconic teams in collegiate athletics with just gear.
Nike also will support Florida A&M Athletics' student-athlete development programs, and offer internships and coordinating networking opportunities for students.
Sonja Henning, Nike's VP of league partnerships for North America said, "Florida A&M has a rich tradition of excellence on the court and field, which not only includes athletic success, but equally important is academics, preparation for future careers and community engagement."
James has always made education a priority in terms of using his platform to influence change off the floor. Now, he and Nike are leaving their stamp on FAMU in support of HBCUs.
In the words of Jackson State University football's head coach and NFL Hall of Famer Deion Sanders, "If you look good, you feel good, if you feel good, you play good, if you play good, they pay good."