Miami Times Staff Report –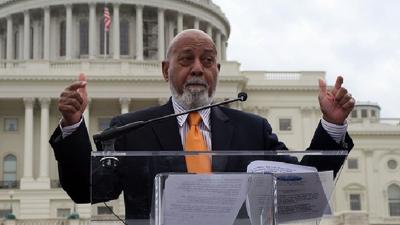 In one of his final acts, Hastings on Jan. 8 introduced the "Build America Act of 2021," which would add $10 billion annually to federal infrastructure grant programs. If made into law, the bill will expand funding for roads, bridges and public transit "so that we can start making the investments in infrastructure our country so desperately needs," he said.
Hastings' life was marked by perseverance, crisis and comeback – the kind that makes you stronger.
"I am deeply saddened by the passing of my dear friend, colleague and fellow Fiskite, Congressman Alcee Hastings," said Congresswoman Frederica Wilson. "He was the first African American man from Florida to be elected to Congress. He was a giant freedom fighter for the lost and left out, especially Black communities. He feared no man, he feared no institution, and he was not shy about voicing his dissent on any issue. He is leaving behind an enormous legacy for generations yet unborn to cherish and emulate."
Congressman Ted Deutch, another South Florida Democrat, described Hastings at a 2019 luncheon in his colleague's honor as someone "who can stand up to a bully, who can represent people whose voices need to be heard, who's unafraid to say what needs to be said."
After attending Fisk University and Florida A&M, Hastings moved to Fort Lauderdale to start practicing law in 1964. At that time, a motel wouldn't rent him a room. For 20 years he and his law partner filed suits that ranged from desegregating Broward County schools to targeting a restaurant popular with the legal community that wouldn't serve him because he was Black.
Speaking at a national gathering of Black elected officials at the Westin Fort Lauderdale Beach Resort on the 50th anniversary of the Voting Rights Act of 1965, Hastings recalled what it was like when he came to the community.
"I couldn't go to that beach that you all see now," he said.
Hastings was appointed to the bench as a Broward Circuit Court judge in 1977 by then Gov. Reubin Askew. In 1979, then President Jimmy Carter nominated him to the U.S. District Court, making him Florida's first Black federal judge.
His appearance at a rally in 1984 for then presidential candidate Jesse Jackson – and his harsh criticism of then President Ronal Reagan – were considered unusual for a sitting federal judge, raising questions about Hastings' impartiality. But he insisted he was doing nothing wrong.
"Outside the courtroom, I speak out because I'm a citizen and I have the interests of a great number of people of this country at heart," he said. "I think it's better to have public officials express themselves. I don't think being a judge means I'm neutered."
That lifetime judicial appointment only lasted 10 years and led to the now infamous bribery charges that led to Hastings' indictment in 1981, after an FBI agent posed as a racketeer trying to buy his way out of a prison sentence. Hastings was found not guilty, but six years later Congress determined he lied during the criminal trial. The House impeached Hastings and he was convicted by the Senate on eight of 11 articles, removing him from the bench. He was not disqualified from holding future office.
Hastings was elected to the House of Representatives three years after the conviction, becoming one of three Black Floridians who went to Congress that year – the first time Florida had sent a Black representative to Washington since 1877, when the post-Civil War era of Reconstruction ended.
He was reelected 14 times, making him dean of the Florida delegation. When he faced opponents from Democrats in primaries or Republicans in general elections, he typically won by margins of at least 3-to-1. He ran unopposed five times.
Hastings represented most Black and Caribbean American communities in Broward and Palm Beach counties, though the boundaries and district numbers changed over decades.
Despite his seniority, he was passed over for chairmanship of the House Intelligence Committee when the Democrats took control of Congress in 2006. But as he did time and again throughout his life, Hastings insisted his fight wasn't over and that he wouldn't be discouraged.
"Sorry, haters," he said when not chosen for the intelligence posting. "God is not finished with me yet."
Hastings remained no stranger to controversy, even in recent years. In 2011, a former aide filed a sexual harassment lawsuit against him, claiming he constantly hugged her against her will, pressed his cheek against hers and suggested they go to his hotel room. Hastings called the accusations "ridiculous, bizarre, frivolous."
The House Ethics Committee cleared Hastings in 2014, finding no "substantial reason to believe" the allegations and "a significant amount of evidence" casting doubt on them.
"I've enjoyed some of the fights, and even the process of being indicted and removed from the bench," he told the AP in 2013. "All of those are extraordinary types of circumstances that would cause lesser people to buckle. I did not and I have not."
Under Florida law, Gov. Ron DeSantis will call a special election in the coming months to fill the vacancy. Hastings' district is overwhelmingly Democratic – he received 80% of the vote in November.
His death, meanwhile, lowers the Democrats' majority to a slim 218-211 in the House. Their narrow margin is forcing the party to muster nearly unanimous votes to push legislation through the chamber, and is bolstering Republican hopes for capturing House control in the 2022 elections.
Hastings is survived by his wife, Patricia Williams, with whom he lived west of Boynton Beach; and three adult children from previous marriages, Alcee "Jody" Hastings II, Chelsea Hastings and Leigh Hastings.