Staff Report – Miami Times –
Nearly 2,500 people were hospitalized Monday in Florida with a COVID-19 diagnosis. While hospitalization numbers fluctuate daily, the number reported Monday was more than 200 higher than on any of the four previous Mondays. On Oct. 26, the total was 2,252; on Oct. 19, it was 2,052; on Oct. 12, it was 2,206; and on Oct. 5, it was 2,106, according to numbers compiled each day by the News Service of Florida from the state website.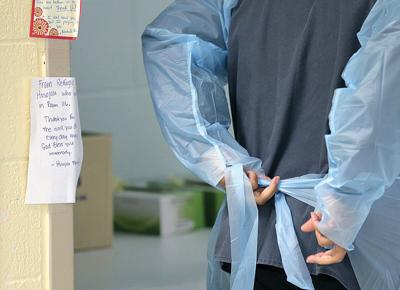 Miami-Dade County had 332 people hospitalized Monday with primary diagnoses of COVID-19, the largest number in the state. It was followed by Broward County, with 239; Hillsborough County, with 174; Palm Beach County, with 153; Orange County, with 149; Duval County, with 135; and Pinellas County, with 127, the state numbers show.
Florida is not alone. In fact, other states are seeing far greater upticks. The expected fall surge of new COVID-19 cases in the United States has escalated in the past week at an alarming rate. New COVID-19 cases this past week have topped 82,000, a 45% increase from the average two weeks ago. That includes the one-day record of 100,233 new cases reported on Friday. There were also 81,500 new cases recorded on Sunday, the highest one-day total for a Sunday in the U.S. More than 260,000 cases were reported from Friday to Sunday.
The numbers include more than 61,000 children testing positive last week for COVID-19, the most of any week during the pandemic. Overall, the U.S. now has more than 9.2 million confirmed coronavirus cases since the pandemic began. Hospitalizations have surpassed 44,000, which is below the 50,000-plus numbers posted in late July, but an increase from the 38,000 reported a week ago.
Coronavirus-related deaths have now exceeded 231,000 across the country. The viral illness is now the third leading cause of death in the U.S. in 2020, trailing behind only heart disease and cancer. The daily death toll from coronavirus in the U.S. is predicted to top 2,200 by the middle of January. Another estimate predicts the U.S. will exceed 390,000 total deaths by Feb. 1, based on current conditions.
During a Chicago PBS station interview on Oct. 29, Dr. Anthony Fauci, director of the National Institute of Allergy and Infectious Diseases, said COVID fatigue is contributing to the current spread, but urged Americans to "hang in there."
"It's going to be a gradual return to normal that's going to be facilitated out of the necessity of a vaccine," said Fauci. "So, we will get a vaccine that'll start to be deployed likely in the beginning of 2021. People are not going to all get vaccinated at once. And depending upon on how effective the vaccine is, and what proportion of the population decides they want to get vaccinated, what will then (happen) probably over a period of several months, as we get into the third or fourth quarter 2021, there will be a gradual relaxing of the public health restrictions."
Fauci also cautioned that it could take more than a year from now before life returns to normal as we knew it.
For more on the original article visit: https://www.miamitimesonline.com/news/covid-19-climbs-in-fl-and-across-the-nation/article_e693273e-1eb0-11eb-bfee-0f5706ae9cbd.html