Tiger Woods, former world number one golfer, was arrested in the sunshine state of Florida on suspicion of driving under the influence, according to online jail records.
Woods was booked into the Palm Beach County Jail early Memorial Day morning of Monday, May 29m 2017 at 7:18 a.m. (ET). Following his arrest by police in Jupiter, Fla. Woods was released on his own recognizance a little after three hours later, at 10:50 a.m.
Messages left by this publication to the Jupiter Police Department were not immediately returned.
Terri Parker of WPTV.com released more information: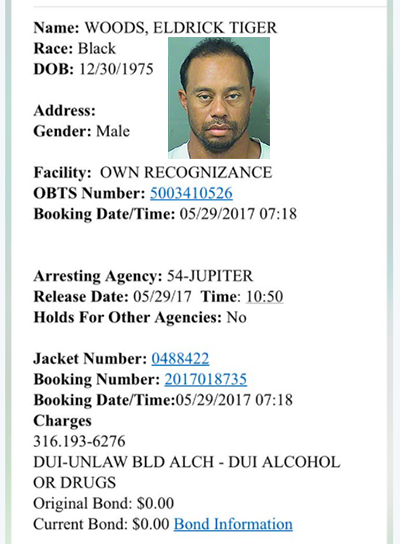 Now age 41, Woods, has struggled to return to golf following several back surgeries. Woods went through a fusion back surgery on April 19 – his fourth procedure to his back since April of 2014 – and will not play on the PGA Tour this season.
The 14-time major champion and winner of 79 PGA Tour titles has not played since he withdrew from the Dubai Desert Classic on Feb. 3 after an opening-round 73. He's only made three worldwide starts the past two years.
He wrote in a statement on his website last week that he remains committed to playing competitive golf.
"As for returning to competitive golf, the long-term prognosis is positive. My surgeon and physiotherapist say the operation was successful. It's just a matter of not screwing up and letting it fuse," Woods wrote. "I'm walking and doing my exercises, and taking my kids to and from school. All I can do is take it day by day. There's no hurry.
"But, I want to say unequivocally, I want to play professional golf again. Presently, I'm not looking ahead. I can't twist for another two-and-a-half to three months. Right now, my sole focus is rehab and doing what the doctors tell me. I am concentrating on short-term goals."

It's not the first time Woods has made headlines for his actions off the golf course. In November 2009, he was involved in a car crash at his Florida home that led to revelations of his extra-marital affairs. He publicly apologized in February 2010 and took four months off from playing competitive golf.