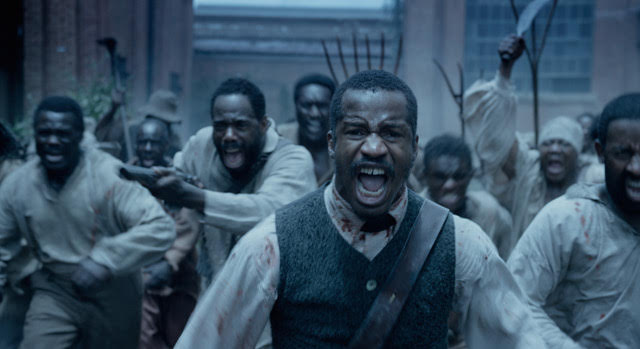 By Dwight Brown (NNPA Newswire Film Critic)
As we go forward, movies guide us.
They give us directions. They motivate us. They provide rest stops, comic relief and flashbacks to the past. And they reassure us that we will thrive.
It's a perfect time to reflect on the most inspiring films, performances and artistic achievements of this last year.
Check out the best in film in 2016.
Best Films
Arrival — (***1/2) Director Denis Villeneuve ("Sicario," "Prisoners"), creates a compelling sci-fi movie, based on Eric Heisserer's thoughtful, feminist screenplay. Aliens arrive in massive floating pods in 12 locations around the world. A linguist (Amy Adams) tries to communicate with them and save humanity. Jeremy Renner and Forrest Whitaker co-star in a film filled with suspense, dread and brain-numbing science.
The Birth of a Nation — (****) An uncompromising retelling of the country's most heralded slave rebellion. Actor-turned-director Nate Parker assembles a stellar cast and tech crew that takes viewers back to when Nat Turner led a revolt in Southampton County, Virginia, in the 1800s. Brutal. Uplifting. Informative. Haunting. Gritty performances and superb ensemble acting.
Deadpool — (***1/2) Actor Ryan Reynolds turns a script by Rhett Reese and Paul Wernick into biting satire that he hurls like a dagger. And director Tim Miller, an animator, creative director and visual effects artist, who marks his feature film debut, orchestrates the madness like a wizard on crystal meth. The petulant mutate and his hijinks are the brilliant concoction of Marvel Comics.
Fences — (***1/2) Opening up a play just enough to make it a viable film is not an easy task. It helps if Denzel Washington, the lead in August Wilson's Tony Award-winning Broadway play, is the movie's director and reprises his role. A father tries to hold his family together during the 1950s and the strife, friction and daunting social issues are amplified on the silver screen. Washington and Viola Davis, as the wife, excel.
I, Daniel Blake — (***1/2) Working hard most of your life then becoming disabled and broke is not a pretty picture even in socialist-leaning England. That's the hypothesis of British director Ken Loach and his writing partner Paul Laverty. Their film tracks a weary carpenter, perfectly played by Dave Johns, who can't navigate the welfare system in the town of Newcastle and drifts into despair. So poignant, so touching.
Jackie — (****) It must have been two weeks of pure hell. That's the blueprint Noah Oppenheim provides in his woeful screenplay that follows First Lady Jacqueline Kennedy (Natalie Portman) as she deals with the aftershock of JFK's assassination. Chilean director Pablo Larraín ("Neruda") perfectly manages a skillful tech crew. Portman's performance shines brighter than a diamond.
The Jungle Book -— (***1/2) With a dazzling array of CGI technology, director Jon Favreau (Iron Man), screenwriter Justin Marks, a top notch tech crew and the brilliant voices of Lupita Nyong'o, Giancarlo Esposito, Ben Kingsley and others craft together the ultimate kids' fantasy/adventure film. Mowgli (Neel Sethi), a man-cub raised by wolves, is tasked with protecting the pack and lucky viewers get to watch.
Loving -— (***1/2) Kudos to writer/director Jeff Nichols (Mud) for retelling the true-life story of a black woman (Ruth Negga, World War Z) and a white man (Joel Edgerton, The Gift) who married and were jailed for it in Virginia, in 1958. His approach is low-key and natural: few theatrics, lots of personal drama. The subtle performances by Negga and Edgerton are filled with grace.
Manchester by the Sea — (***1/2) Dealing with a death in the family is so much harder when you're a hopeless alcoholic (Casey Affleck, who is brilliant) who's divorced and running away from a tragedy. Screenwriter/director Kenneth Lonergan meticulously sets the blue-collar characters in motion, giving them everyday dialogue that unearths hurt and feelings that run deeper than the sea.
Moonlight — (***) Writer/director Barry Jenkins teams up with writer Tarell McCraney to tell a story about sexual repression and ambiguity through the eyes of a young, overly passive and emotionally abused gay boy who becomes a distressed teen and then a circumspect young man in inner city Miami. Mahershala Ali as a warm-hearted drug dealer and father figure steals every scene. Artfully directed and photographed.
Best Directors
Barry Jenkins = Moonlight
Pablo Larraín = Jackie
Nate Parker = The Birth of a Nation
Denis Villeneuve = Arrival
Kenneth Lonergan = Manchester by the Sea
Best First Films
Birth of a Nation = Nate Parker
Krisha = Trey Edward Shults
Deadpool = Tim Miller
Southside With You = Richard Tanne
The Edge of Seventeen = Kelly Fremon Craig
Best Foreign Language Films
Land of Mine,
The Salesman,
Neruda,
The Handmaiden,
Elle
Best Documentaries
13th, 
I Am Not Your Negro,
 Gleason,
Presenting Princess Shaw,
 Miss Sharon Jones!
Best Actors
Denzel Washington = Fences
Casey Affleck = Manchester by the Sea
Dave Johns = I, Daniel Blake
Ryan Reynolds = Deadpool
Ethan Hawke = Born to Be Blue
Best Actresses
Natalie Portman = Jackie
Amy Adams = Arrival
Ruth Negga = Loving
Jessica Chastain = Miss Sloane
Rachel Weisz = Denial
Best Supporting Actors
Mahershala Ali = Moonlight
Ben Foster = Hell or High Water
Michael Shannon = Nocturnal Animals
Stephen Henderson = Fences
Gil Birmingham = Hell or High Water
Best Supporting Actresses
Aja Naomi King = The Birth of a Nation
Viola Davis = Fences
Michelle Williams = Manchester by the Sea
Nicole Kidman = Lion
Carmen Ejogo = Born to Be Blue
Best Screenplays
Manchester by the Sea = Kenneth Lonergan
The Birth of a Nation = Nate Parker and Jean McGianni Celestin
Deadpool = Rhett Reese, Paul Wernick
Miss Sloane = Jonathan Perera
Remember = Benjamin August
Best Cinematography
Arrival = Bradford Young
The Birth of a Nation = Elliot Davis
Nocturnal Animals = Seamus McGarvey
Moonlight = James Laxton
Jackie = Stéphane Fontaine
Best Animation/CGI
The Jungle Book, 
The Secret Life of Pets,
 Zootopia,
 Sausage Party,
 Finding Dory
Great Films
Being 17,
 Bleed for This,
 Born to Be Blue,
 Denial, 
The Edge of Seventeen,
 Eye in the Sky,
 Free State of Jones,
 Hands of Stone,
 Hidden Figures,
Indignation,
 La La Land,
 Lion,
 Love & Friendship,
 Miss Sloane,
 Queen of Katwe,
 20th Century Women
Worst Movies
Batman v Superman: Dawn of Justice,
 Certain Women,
 The Dressmaker,
 The Girl on the Train,
 The Legend of Tarzan, 
The Lobster, 
Nina,
Snowden,
Suicide Squad