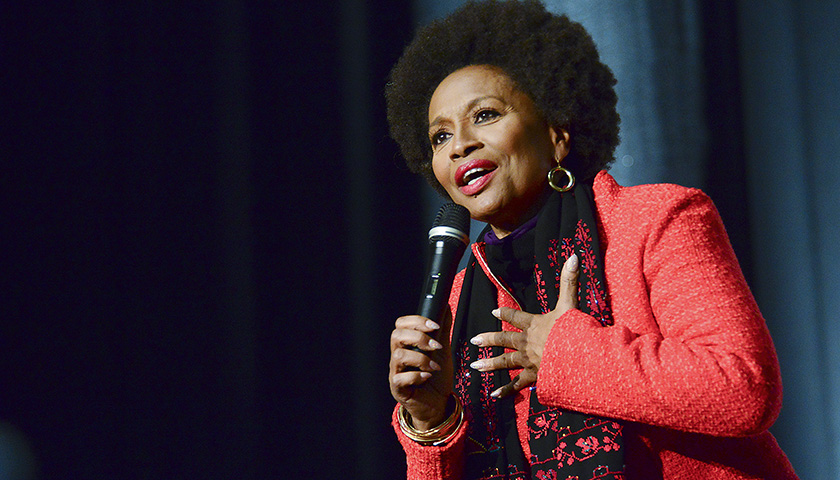 By Lauren Poteat
Jenifer Lewis, affectionately nicknamed "Auntie" in Black Hollywood, recently made a special appearance at the Duke Ellington School of Performing Arts in Washington, D.C. where she shared the trials, tribulations and triumphs of her journey to superstardom, while sending a strong message to millennials to stand up and find a purpose.
"There's no foolproof way to live this thing called 'life.' I can't save the world, I can't save you and ain't nobody coming to rescue you," said Lewis. "Do the work, look in the mirror and know this ain't no rehearsal. This is life."
Lewis continued: "Live, pursue happiness—sometimes it's easier said than done—but we have to strive for that. You've laid down in front of these police barricades, now get up, stay up and keep it moving, but don't miss the beat of feeling…don't just go willy nilly into the world."
Detailing traumatic and heroic moments from her past throughout her special performance, Lewis talked about being molested as a teenager, her first encounter with illegal substances and growing to understand and cope with a bipolar disorder diagnosis.
"Feel your feelings. If you're disappointed you feel, if you're hurt you feel," said Lewis. "Don't you stay in a dark room and be quiet and if somebody inappropriately touches you or abuses you, you tell somebody."
Compelled by the actress's gripping, yet comedic words, audience members gushed over the opportunity to engage with the Hollywood legend and to share their own personal stories.
"Ms. Jenifer, I just wanted to say my daughter—she would of been 27—she was bipolar," one district resident said. "We discovered it when she was 13. When she was about 16 or 17 she heard you talking about being bipolar and it made her feel a little bit more comfortable with her treatment. She didn't get all the way better, she passed away, but I've always wanted to meet you just to tell you, 'Thank you,' for giving my daughter that little extra amount of time on Earth to feel better."
The always amusing co-star of the hit ABC sitcom "black-ish," recently published a deeply personal memoir titled "The Mother of Black Hollywood."
Filled with comedy, sex, glamour, sorrow, pain, and good advice, Lewis' latest over the top production—the story of her life—is a terrific read for anyone who has ever felt like they were ignored, but longed to have a voice.
Lewis said that she recently completed work on a new Disney animated TV series based on the movie "Big Hero 6" and plans to reprise her role as Jackie Washington in the mockumentary "Jackie's Back! 2," that will pick up where the original 1999 Lifetime channel movie left off.