By Bianca Marcof Miami Times Staff Writer – 

New film tells story of city in the center of civil rights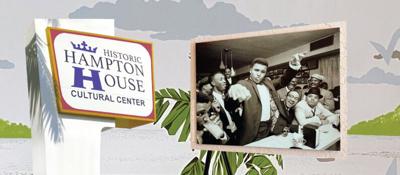 On Feb. 25, 22-year-old Muhammad Ali, then known as Cassius Clay, shocked the world when he became boxing's new heavyweight world champion by knocking out an undefeated Sonny Liston at the Miami Beach Convention Center. Despite his celebrity, Jim Crow-era laws prevented Clay from staying in Miami Beach with the crowds of people that swarmed the area's hot spots and hotels to celebrate his win. Instead, he headed to Hampton House to celebrate the victory by enjoying a large bowl of vanilla ice cream and having a laugh at the motel's 24-hour diner with three of his friends – activist Malcolm X, singer-songwriter Sam Cooke and football star Jim Brown.
The four men were well known for being outspoken advocates for Black power, civil rights and religious freedom, but to each other they were just friends challenging one another on the future of Black America. Brown was 28 years old; Cooke and X were in their 30s.
That night in 1964 was the last time Clay fought under his birth name, announcing afterward he was joining the Nation of Islam and changing his name to Muhammad Ali. It is believed that X proselytized Clay to the Islam faith at that very same motel.
Of the four friends, Brown is the only one alive today. Within a year of that night, Cooke was shot dead at a motel under suspicious circumstances and X was assassinated during a speech. Ali passed away in 2016 from respiratory issues after a long battle with Parkinson's disease.
"One Night in Miami" depicts a fictionalized, behind-closed-doors telling of this true story on what happened before and after the boxing match that day. The film – which stars Kingsley Ben-Adir as X, Eli Goree as Clay, Aldis Hodge as Brown and Leslie Odom Jr. as Cooke – is Oscar-winning actress Regina King's directorial debut. It is based on the critically acclaimed one-room play written by Kemp Powers and staged in Miami Beach by Miami New Drama at the Colony Theatre on Lincoln Road in 2018.
Powers, who adapted the play for the screen, uses historical facts about each of the characters while imagining what they said to each other during their real-life meeting. Powers is also the co-director of Pixar's "Soul," which was released on Christmas Day on Disney+, the same day "One Night in Miami" had its theatrical release in select theaters ahead of its Jan. 15 release on Amazon Prime.
In the film, the four men talk about their collective mission as powerful Black men in segregated America. Feeling like the sports world had taken him as far as it was going to, Brown is ready to step into Hollywood. X is pushing Clay to become a Muslim and Cooke realizes that he needs to get serious about the messages in his songs. Cooke's civil rights anthem "A Change is Gonna Come" was released in March of 1964; it was inspired by Bob Dylan's protest song "Blowin' in the Wind." There is a fictionalized detail in the script where X leads Cooke to the Dylan record by playing it at the motel, observing that a white man is able to make chart-topping protest music that Black people should be producing.
Carl Cofield, director of the "One Night in Miami" stage play for both the original premiere in Los Angeles at the Rogue Machine Theatre and the subsequent Miami New Drama production, grew up in Miami-Dade County's Richmond Heights, went to Miami's New World School of the Arts and was an undergrad at the University of Miami – yet, he had never heard of the story.
"My mother had been to the Hampton House years ago and she would tell me stories about some of the things and people who she would encounter, so I was familiar with it," he said. "I, unfortunately, didn't know the story of these four iconic men gathering there. So when I got to 'One Night in Miami,' I was blown away."
"The reason why the boxing champion of the world, one of the best football players of all time, one of the greatest thinkers like Malcolm X and one of the most talented singer-songwriters like Sam Cooke all had to stay at the Hampton House was because Miami was segregated," founder and artistic director for Miami New Drama Michel Hausmann said. "We don't have a collective history of that today. There is not a single memorial or statue or anything that reminds Miami that this multicultural, multilingual city was once segregated, and it is a disservice to the next generation. I think one of the biggest surprises we had with 'One Night in Miami' is how little people knew of the city's racist history."
Hausmann first heard of the play through Cofield at Columbia University, where they attended classes together. After graduating with a master's in theater, Hausmann knew what he wanted to do: Create a regional theater in Miami that was as diverse and multicultural as the community, something he felt was lacking. Once he established Miami New Drama, "One Night in Miami'' was one of the first projects he wanted to produce, and he wanted Cofield to direct it. The theater company already had two seasons of work before it was able to stage the play and had been trying to secure the rights for a long time. "One Night in Miami" became the first show of the company's third season. It starred Kieron Anthony as Clay, Jason Delane as X, Leon Thomas III as Cooke and Esau Pritchett as Brown.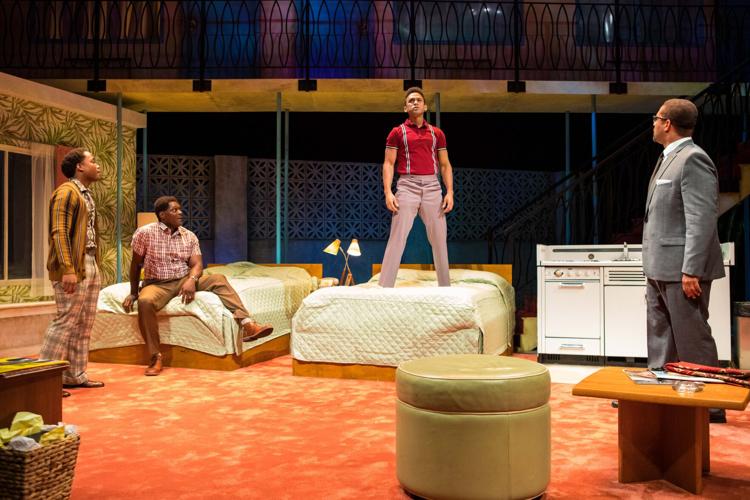 "To engage the community through storytelling and theater is important. I'm a big history buff, so to say that I wasn't familiar with this story, my gut told me that there was probably a large swath of Miami that wasn't familiar with this story," Cofield said. "To be able to share a story to take pride in our communities, especially the Black community in Miami, is something that I was very eager to participate in."
A replica of the sign and room were made to honor the building that was at the center of New Drama's production.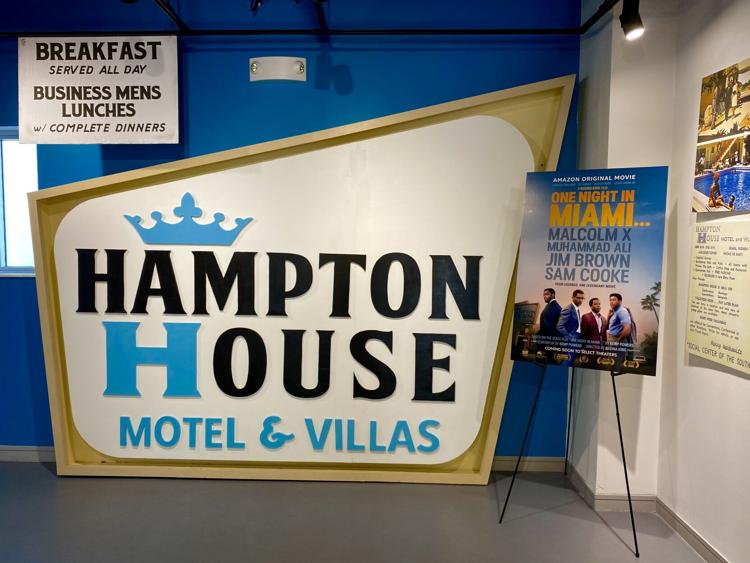 "We felt that it was important that the Hampton House was the fifth character in the play," Hausmann said.
After the show, the replica set pieces, sign and costumes were donated to the Hampton House, where they can be viewed on display in an exhibit dedicated to the play that inspired the film.
The fifth character of "One Night in Miami'' is the historic 1953 Green Book motel now known as the Historic Hampton House. It was labeled "The Jewel of the South," for Black guests that were not welcome in Miami Beach. In the 1960s, it was a mecca for famous Black Americans visiting the area. When world-renown celebrities like Aretha Franklin, Marvin Gaye, Sammy Davis Jr. and Duke Ellington (to name a few) came to perform at South Beach clubs, they'd have to stay at the Hampton House after their set. There, they'd have after parties and play late-night sets. White fans would even follow these musicians to the motel. At a time of strict segregation, the Hampton House was one of the most integrated hot spots in the city.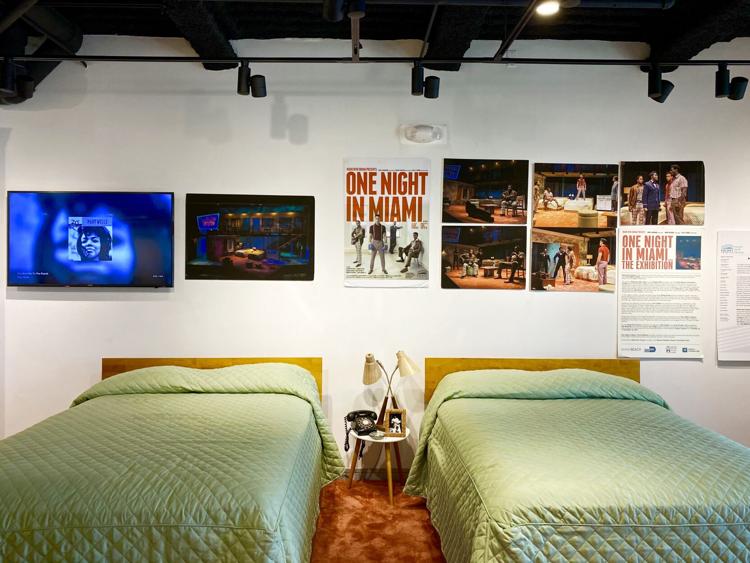 The Hampton House also was a place of community organizing for sit-ins and protest marches. The Miami chapter of the Congress of Racial Equality (CORE), a civil rights organization, met weekly there to strategize about desegregating Miami. Dr. Martin Luther King Jr. would join when he was in town. It is said that King rehearsed an early version of his legendary "I Have a Dream" speech at the motel for a small audience, three years before he delivered it on the steps of the Lincoln Memorial in Washington, D.C. When describing the speech in a documentary, Miami civil rights activist A.D. Moore said, "It blew that place wide open … he was fantastic."
Prior to it being known as the Hampton House, the building originally opened in the early 1950s as the Booker Terrace Motel, the South's first luxury motel for Black Americans. The 50-room development included a 24-hour restaurant, a nightclub and a courtyard pool.
In 1961, Harry and Florence Markowitz, a white Jewish couple, purchased the Booker Terrace and it underwent a complete renovation in the Miami Modern, or MiMo, style. They held a contest to select a new name for the resort and the winner was Verneka Silva, a school teacher in Coconut Grove. The name rebranded the hotel while continuing to recognize Booker T. Washington, the educator and Hampton Normal and Agricultural Institute (now Hampton University) alum after whom the "Booker Terrace" was originally named. On April 3 of that year, the Markowitz's held a formal reopening of the renovated Hampton House Motel with more than 200 guests attending.
Like several important Green Book sites, integration led to the demise of the Hampton House as Black Americans began to explore other parts of town previously off limits. By the 1970s, the motel fell into decline and officially closed in 1976.
In 2001, the effort to save the motel from demolition and preserve its history began, led in part by Enid Pinkney, founding CEO and president of the Historic Hampton House Community Trust, and documentary filmmaker and historian Kathy Hersh. The nonprofit Community Trust now manages the property. Pinkney, along with the rest of the board members, is working to restore Hampton House's role as a community center. It currently operates as a museum and cultural center that rents space and offers tours.
Imani L. Warren, director of the Community Trust, said the hope is to have educational institutions be a part of Hampton House. Construction on a planned second-floor recording studio will start soon, thanks to the support of a Grammy award-winning producer whom Warren can't yet name. Hampton House will also commence its Brownsville Unity Music Project (B.U.M.P.) next month, where students in grades 6-9 receive music lessons and music history education.
"There's so much history here that we need to teach our young people what happened here," said Pinkney. "And not only that, we need them to have opportunities for them to grow and to learn. They should be learning the arts to express themselves and they should be learning about heritage and culture."
What's special about the Historic Hampton House, Warren added, is how you'll find photos of powerful civil rights leaders just being human hanging around the building – King chilling in the pool, X photographing his friends and Ali clowning around with his buddies at the diner.
"You can come here in this space and feel safe. Like you see these figures in the front of social justice just lounging," she said. "That's not something that you would normally see, but you see it here."
The Hampton House reopened in 2015, having undergone a full transformation of its yellow-and-turquoise exterior, its lobby surrounded by gray railings and with a bronze desk that greets visitors upon entering, its diner lined by yellow bar stools and its downsized pool, now a fountain.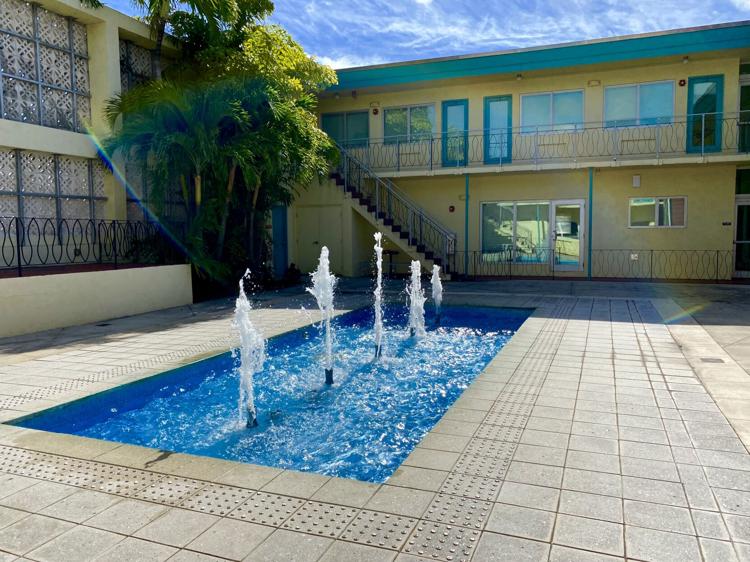 The historic site is hosting a private, invitation-only screening of "One Night in Miami" on Saturday, Jan. 9. The film will be released on Amazon Prime Video on Jan. 15.