By Christina Zhao – Former National Security Adviser Susan Rice has made her case for why she should be picked by presumptive Democratic nominee Joe Biden to serve as his running mate.
In a PBS interview transcript, shared with Newsweek before its airing on Friday, Rice tells Firing Line host Margaret Hoover that she is "humbled and honored to be among the extremely accomplished women who are reportedly being considered" to become Biden's vice president.
"I certainly would say yes," Rice said when asked whether she would accept an offer from Biden. "I want to help enable [Biden] to become the next president of the United States in any way I can and to support him if he wins in any way I can, because I believe that's what is vitally important for the future of our country."
"And it's not about me. It's not about my ambitions," she added. "I am not campaigning for anything. But, you know, obviously, if that were the role in which he felt I could best serve, then I'm not going to say no."
Newsweek reached out to Biden's campaign for comment. This story will be updated with any response.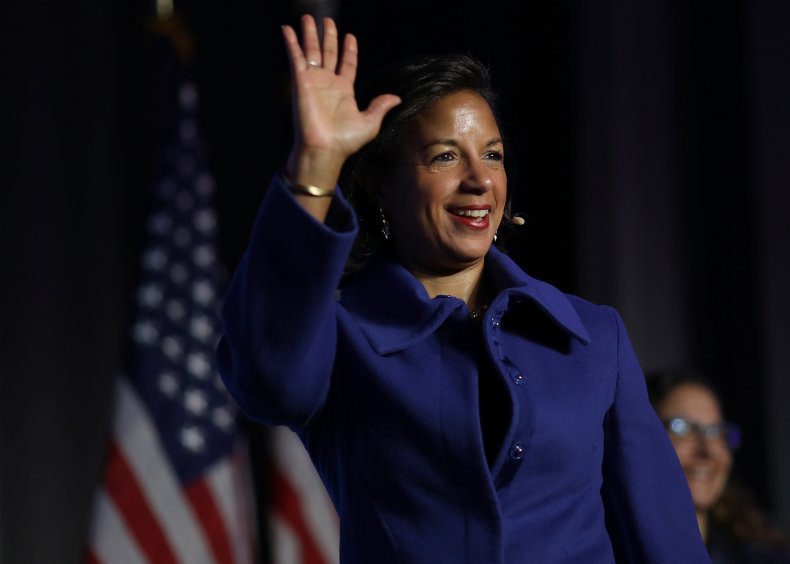 The former Democratic vice president, who served under former President Barack Obama, the first African American commander-in-chief, offered voters another chance to make history with him by committing to name a female running mate during the March Democratic debate in D.C. If Biden wins against President Donald Trump in the November election, America would see its first woman elected to federal executive office.
In addition to Rice, others on the list of potential candidates for Biden's VP includes former Georgia gubernatorial candidate Stacey Abrams, California Senator Kamala Harris, Minnesota Senator Amy Klobuchar, Massachusetts Senator Elizabeth Warren and Michigan Governor Gretchen Whitmer.
For more visit: https://www.newsweek.com/former-national-security-adviser-susan-rice-wants-joe-bidens-vice-president-1504244