By Johania Charles Miami Times Staff Writer – DeSantis refuses to treat educators like frontline workers – According to Centers for Disease Control and Prevention (CDC) guidelines, essential workers should be next in line to receive COVID-19 vaccines, along with seniors aged 75 or older. The CDC defines teachers, support staff and day care workers as essential, but Florida Gov. Ron DeSantis is ignoring that.
Given the current limited supply of vaccination in the state and specifically in Miami-Dade County, education officials have been urging the governor to prioritize teachers for vaccination ever since CDC recommendations listed them as a priority for phase 1b. The Florida Education Association (FEA) petitioned the governor through a letter to consider educators for the next phase, but DeSantis is ignoring the FEA as well.
During Monday news conferences in Seminole and Miami-Dade counties to provide updates on vaccine distribution, DeSantis doubled down against the CDC and remained firm on where he thought priority should be placed – with senior citizens aged 65 and older.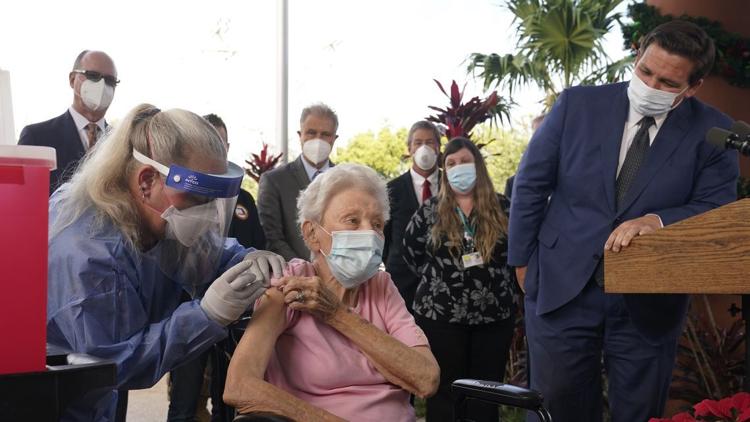 Of the 1.1 million doses of both the Moderna and Pfizer vaccines disseminated throughout the state, DeSantis was adamant about excluding education professionals from the list of those who would be prioritized.
"Our priority is our senior citizens. They are the ones that have been most at risk to complications from COVID-19 … So that's where we've got to focus," he said.
Educators across the state expressed disappointment in the decision and some even stated that DeSantis' push for a return to in-person learning this spring should be met with vaccination prioritization.
As required by DeSantis and education commissioner Richard Corcoran, letters have already been sent to parents with children who have shown regression in their studies. The letters request that parents decide whether their children will return to in-person instruction on Jan.13 for Broward schools and Jan. 25 for Miami-Dade or continue with online instruction, despite failing grades.
With more children scheduled to return to in-person learning, Florida educators fear they will contract the coronavirus and bring it home to their families before being able to receive the vaccine. Roughly 79,000 students were reported by the FEA as testing positive for the coronavirus since the pandemic began.
In Miami-Dade, where 15,000 children are receiving in-person instruction, the same request for prioritization from the teachers union and superintendent on behalf of educators have fallen on deaf ears.
"We are disappointed in Governor DeSantis' decision to not include school personnel, particularly our veteran educators, as part of this second round of vaccines …" said Karla Hernandez-Mats, United Teachers of Dade president. "A more commonsense approach would be to make the vaccine available to those teachers who wish to take it and stand to be most impacted by COVID-19. If the intent is to keep schools open so that students can benefit from in-person learning in a safe environment, then the governor should have listened to the CDC recommendation."