By Johania Charles Miami Times Staff Writer  – via www.miamitimesonline.com – While U.S. school districts look to recover from a mass exodus of teachers brought on by various factors – including the COVID-19 pandemic and low pay – two former educators in Congress have proposed a bill to raise annual teachers' salaries to a minimum of $60,000.
The American Teacher Act was first introduced by Frederica S. Wilson, a Florida congresswoman and ranking member of the Higher Education and Workforce Investment Subcommittee, in December 2022. It was referred to the House Committee on Education and Labor but fell short of making it to the floor for a vote.
Wilson and New York Congressman Jamaal Bowman reintroduced the legislation in the House last week following President Biden's State of the Union Address, where the latter called for public school teacher raises. Forty-seven other congress members, including Broward County Rep. Sheila Cherfilus-McCormick, are co-sponsoring the bill (HR 882).
More than 80 organizations nationwide, such as the American Federation of Teachers, NAACP, Black Teacher Project and Teach for America, support the bill.
"Our classrooms are at stake, our children are at stake, and the future of our country is at stake," said Wilson at a press conference last week. "I am reintroducing the American Teacher Act to address the teacher shortage and ensure that no teacher in America is paid less than $60,000 annually. Our teachers don't just deserve our gratitude, they deserve a living wage, and it's time we fight for it."
Teacher salaries across the nation vary by state, city and individual school district.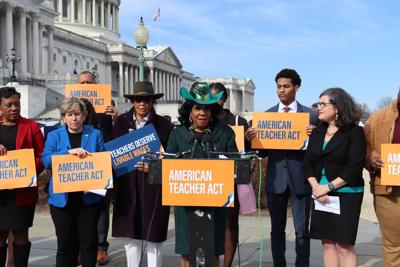 The National Education Association (NEA) found that Florida ranked 16th in the country with an average starting teacher salary of just over $44,000 a year. According to Indeed, Miami-Dade County Public Schools teachers earn approximately $49,700 yearly on average, compared to $47,500 for Broward County Public Schools teachers.
In other states such as New York, new teachers can make between $61,070 and $83,972 depending on their education level, according to the New York City Department of Education. Glassdoor estimates that the base salary for teachers in California is $49,821 annually.
"Nearly 1 in 5 American teachers report needing to take on a second or third job just to make ends meet," said Bowman, who taught for two decades. "I have firsthand experience of the impact that far too low salaries have on teachers. Our teachers' demands, responsibilities and expectations continue to increase, but their salaries do not."
"There are nearly 570,000 fewer educators in our schools today than at the start of the pandemic," said Becky Pringle, NEA president, last week. "And 55% of those remaining are considering leaving the profession. We have a shortage of professional pay, basic dignity and respect for the professionals they are."
The Florida Education Association reported more than 8,000 teacher vacancies statewide last year. M-DCPS started the 2022-2023 academic school year with more than 220 teachers missing from the classroom; Broward also had 220 openings.
Supporters of Wilson's bill say it will meet the goal of addressing teacher shortages and can potentially create long-term solutions for the recruitment and retention of educators.
Public schools typically draw from federal, state and local funding to support their operations. An Education Week report shows that approximately 48% of a school's budget comes from state resources such as income and sales taxes. About 44% is local (i.e., it comes from property taxes) and 8% comes from federal resources like grants.
Broward County voters also approved a property tax referendum in 2022 to raise teacher salaries.
If the bill passes, teachers here in the district and also across the country may earn a little more.
Karla Hernández-Mats, United Teachers of Dade president, did not make herself available for an interview but sent the following statement: "This bill would remedy one of the main causes of our teacher shortage crisis: low pay and lack of investment in recruiting and retaining teachers.
"Congresswoman Wilson continues to lead in the fight for teacher pay and wellbeing. Instead of engaging in culture wars, Rep. Wilson advocates for students, empowers teachers and embraces the teaching of historical facts."
How the American Teacher Act works
The U.S. Secretary of Education will award four-year grants to states to close the gap between current salaries and the proposed $60,000 minimum, beginning in the 2024-2025 school year. For example, Florida would receive grants to provide its educators with an additional $16,000 each to add to the $44,000 they already earn through their respective school district's existing pot of allocated funds.
States cannot replace currently committed allocations with federal funding from the American Teacher Act.
For part-time teachers, a provision in the bill would adjust the required minimum salary based on workload. A teacher that works 60% of the hours required to be considered a full-time employee would have a minimum salary of $36,000.
In states and districts where the base salary already exceeds $60,000 for full-time teachers, a second grant program will provide cost-of-living adjustments. It was not included in last year's version of the bill.
About 15% of funding from the grants received will go to states and 85% will go directly to school districts to support the raises.
State educational agencies are to submit an application for the funding to Secretary of Education Miguel Cardona. Priority will be given to local agencies that serve a greater number of children from low-income families.
Up to 4% of the federal funding appropriated for the act will go toward a national campaign to recruit and retain educators. The campaign will encourage secondary school and college students to consider the teaching profession, diversify the pool of applicants within the profession and increase awareness about the importance of teachers and their impact.
When asked what would be the budget impact of this bill, a spokesperson from Wilson's office said that a cost analysis had not yet been completed by the Office of Budget Management. No timeline was provided for when that will happen.
The bill was referred to the House education committee again but no action has been taken yet. The committee must release the bill before it can be placed on a calendar for a vote. A majority vote of 218 out of 435 would move the bill to the Senate, where a similar process occurs in those chambers. A Senate committee will review it, release it and move it for a vote.
Wilson's challenge now is to get the bill to pass in the Republican-controlled House, after it failed to reach the floor in the then Democrat-controlled House last year.
Article retrieved from: https://www.miamitimesonline.com/news/world_national/congresswoman-frederica-s-wilson-proposes-minimum-60k-salary-for-teachers-in-new-bill/article_a1a2c374-ace2-11ed-9bf4-1bb0c60707d1.html