By Johania Charles Miami Times Staff Writer – (Source: www.miamitimesonline.com) A new Broadway is on the horizon as directors cast more Black actors in leading roles. Cast decisions for the latest "Anastasia" national tour represent a trend toward diversity and color-blind casting.
The historical fiction musical's long-coveted role of Anya is played by California native Kyla Stone, making her the first Black princess to grace the stage since the show premiered on Broadway in 2017. Stone is of German, Mexican and African American ancestry.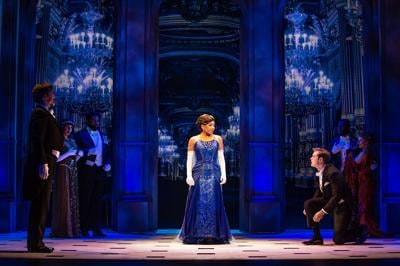 "Our director, Darko Tresnjak, saw the essence of Anastasia in me, which filled me with so much hope, and we delved into the character of Anya," said Stone. "What's so wonderful about our show is that it's inspired by the animated film (of the same name) as well as the 1956 film with Ingrid Bergman … both films have this perfect marriage of reality and fantasy. So this idea that anyone could be Anya, anyone can be on the stage, is what our tour brings across."
Running at the Adrienne Arsht Center for the Performing Arts March 22-27, "Anastasia" follows the story of an orphaned Russian girl suffering from amnesia who travels through parts of Paris in hopes of connecting the missing pieces to find out about her past. On her journey, she befriends two conmen who exploit her resemblance to Grand Duchess Anastasia Nikolaevna of Russia, a historical figure rumored to have survived the slaughter of Russia's Romanov family in 1918. Anya must fight through fragmented memories, assumptions that she might be the lost Anastasia and being hunted by a villainous Bolshevik general to discover her true identity.
Set against the backdrop of the Russian Revolution, the musical retains six songs from the film and adds 16 new numbers and additional characters, according to Tresnjak. The tour began in Georgia last fall and is scheduled to end this August in Boston.
"I think Anya has gone through so many trials and tribulations, and as a Black woman, I'm full of those," said Stone, revealing that she has some things in common with the historically white character she portrays. "From being told no or that I'm too strong or I don't fit into a mold that someone sees me in. We both carry that weight and those expectations along the journey to find yourself and those who support you."
Landing the role was a dream come true for 23-year-old Stone's inner child.
She remembers watching the animated film, which her sister loved at the time, and being captivated by the "Once Upon a December" dream sequence, where an adult Anastasia transforms out of rags into a sparkly yellow gown as Liz Calloway's powerful vocals lead the singing number.
"It didn't really hit me until final callbacks," Stone told The Miami Times, reliving the moment before she received the transformative role that would mark her professional debut. "I felt like in the deepest part of my being that I landed it and I [had] a feeling [it was] going to change my life and open so many more doors for young people who have waited and hoped to see themselves represented and could say, 'Look, there's a princess who looks like me.'"
Stone knows firsthand just how much impact representation, or lack thereof, can have on little girls.
After seeing "The Phantom of the Opera" with her family at just 5 years old, her fate was sealed – she was determined to get on that stage, too. It wasn't until January of this year that the first Black woman, Emilie Kouatchou, would take on the leading role of Christine Daaé in "Phantom," a character young Stone was instantly obsessed with.
"My mom says to this day, as soon as I saw it, I was set and knew that I wanted to be an actress," Stone revealed. "I grew up just absolutely loving theater and film. Literally, like every old movie was on at our house. I think I've watched the entire Fred Astaire collection."
Stone's generation saw Disney, the entertainment company that owns the California theme park where her parents were employed, present its first Black princess in the 2009 animated film "The Princess and the Frog."
"[This role] has been overwhelming but also such a gift that hits me in different moments where I step out of myself and I'm like 'Oh my gosh, I'm living my dream,'" she said. "And there definitely still is that little 5-year-old girl in the back of the audience watching me do what I've always wanted to do."
The opportunity fell in her lap following her 2020 graduation from Chapman University, a few rejections and previous roles in short films and pilot presentations.
She pointed to shows like "Wicked," which cast Brittney Johnson as the first Black actor to play Glinda in its 18-year history, and "Waitress," with five leading roles played by Black actors, as a sign that Broadway is creating a more equitable and diversified environment for upcoming and seasoned actors.
"It's really just looking at who's best for the role," said Stone about casting decisions. "Who's going to serve the story and going to create a dynamic in the cast that hopefully uplifts the audience, as well as making the stories that we tell on stage relatable to the people in the audience while reflecting a diverse society."
Stone said theater patrons will be blown away by the costumes, created by designer Linda Cho, and the play's projections, drama, suspense and comedy.
"Our story is one full of hope, honesty and vulnerability as well," she said. "We may be Russian in our show or, in my case, a little mixed girl from California telling the story, but it resonates with a lot of people and lets them know that even if we're on opposite sides of the [ocean], we can have conversations about what's going on in the world."
Anastasia the Musical Tour – Mar 29 – Apr 3 in Jacksonville
For tickets visit: www.fscjartistseries.org/anastasia