Commissioners unanimously voted in October 2022 to create "Justice Ketanji Brown Jackson Street" after Commissioner Danielle Cohen Higgins sponsored the legislation. The street will be in Cutler Bay, where Brown Jackson grew up, attended school, and where her parents still live. Brown Jackson's South Florida visit was her first appearance back since joining the highest court in the country.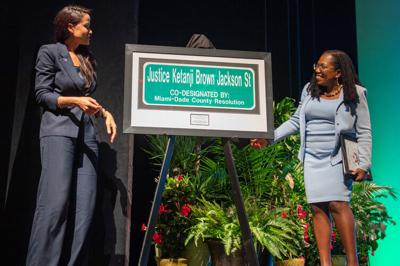 The major arterial road that's been renamed takes up a portion of Eureka Drive and is one that Brown Jackson's parents travel regularly. It is located on SW 184th Street between Old Cutler Road and Caribbean Boulevard.
"This is in many ways a celebration of us as it is of me because I grew up among all of you, and this is where I got my start," said Brown Jackson as she addressed the audience at the renaming ceremony at the Dennis C. Moss Cultural Arts Center. "I believe there is an important connection between my experience growing up in this area and my current position. While I studied, competed and grew up in this community, I learned how to lean in despite obstacles and be resilient."
Higgins said the renaming was the least thing the community could do to congratulate Brown Jackson for her success.
"Justice Ketanji Brown Jackson represents everything that is possible and excellent in our community and country," said Higgins.
Brown Jackson, a graduate of Miami Palmetto Senior High School's 1998 graduating class, was student body president and part of the school's debate time, leading her to famously become a national debate champion. She excelled not only in academics but in leadership, with numerous accomplishments already under her belt when she headed to Harvard University to pursue her career in law.
The Supreme Court justice has broken a glass ceiling by formerly serving on the U.S. Court of Appeals for the District of Columbia as its first Black woman judge. Her trailblazing achievements led Miami-Dade County Mayor Daniella Levine Cava to reflect on the past and future.
"Today's dedication is not only attributed to Justice Jackson's legacy and contributions to the legal profession, but also honors the many achievements of women and people of color who fought for justice and equality throughout history," said Levine Cava. "Justice Ketanji Brown Jackson Street is a powerful symbol of our commitment to justice and opportunity for all people, and yet another signifier that we will not stop fighting alongside you."
"If you are a woman plugged into women's issues and care about representation at any level, [Brown Jackson's] presence is overwhelming," said Higgins as she fought back tears. "She is a significant figure in our community, and I was thankful for the opportunity to honor her."
It was an emotional day all around. Even Brown Jackson was moved to tears by a video presentation that illustrated her monumental career. The audience was filled with community leaders and locals who delivered several standing ovations as the justice entered the center's hall and several times afterward at the mention of her name. She welcomed the cheers with a warm smile as she sat beside her parents and husband.
Monday's ceremony at the center – formerly known as the South Miami-Dade Cultural Arts Center – included such special guests as a group of young men from the 5000 Role Models scholarship program and the South Dade Senior High School marching band, which entertained and energized the crowd.
Steven Rosenthal, one of Brown Jackson's childhood friends who attended the ceremony, reminisced about their time together from middle school to university and took the opportunity to pay tribute to her parents.
"The street sign is a testament to her parent's lasting impact on this community. They have served it in outsized waves, from Mrs. Brown serving as the founding principal of the New World School of the Arts and Mr. Brown guiding the Miami-Dade County School Board," said Rosenthal. "This family has given much to this place, and the street sign will be a lasting source of pride."
During Brown Jackson's closing remarks, she expressed gratitude for the teachers who motivated her and for the community that continues to support her.
"I hope that this street naming will serve as a testament to what is possible in this great country," she said. "That people driving by might have a moment of reflection about what it means that a person from this neighborhood and someone with my background could take what this place has to offer and go out into the world."
Story retrieved via @miamtimesonline
https://www.miamitimesonline.com/news/local/justice-ketanji-brown-jackson-home-for-street-naming/article_9cb7b0d0-bd1e-11ed-8577-77afea9735a2.html?block_id=501774