By Emily Cardenas – (Source: www.miamitimesonline.com) – Vice President Kamala Harris returned from her mission to Latin America battered and bruised. It was her first mission abroad as VP and it didn't go well. She went there to deliver a message, one that was hard to hear and – it appeared – even harder to deliver.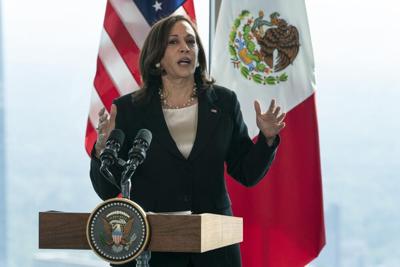 She bluntly told migrants not to travel to the United States.
"Do not come," she said in Guatemala, invoking the dangers of the trip as well as the Biden administration's commitment to border security. "Do not come," she repeated for emphasis.
But as her voice cracked while she put on her very best, serious face, the message rang hollow.
It didn't come off well from a daughter of Shyamala Gopalan, a woman who came to the U.S. at age 19 from India to attend the University of California –Berkeley in 1959.
Harris was visibly uncomfortable with the assignment and fumbled defensively when asked why she wasn't visiting the U.S.-Mexico border.
Illegal border crossings have increased steadily since April 2020, after former President Donald Trump invoked pandemic-related powers to deny migrants the opportunity to seek asylum, and they've further accelerated under Biden.
If the administration thought a woman of color with an immigrant heritage would be the most effective person to deliver an anti-immigration message, they were wrong. Harris came off looking like a hypocrite, and even if she never admits it publicly, she knows it.
Her foreign debut was a complex one, as she attempted to engage in the deepest reasons people leave the world they know to take on the perils of trekking to the U.S. border and trying to get across, whether illegally or through their right to ask for asylum.
Harris walked away from meetings with the Guatemalan and Mexican presidents with no concrete commitments on immigration enforcement, but with amiable agreements to work more closely on economic development and on combating trafficking, smuggling and corruption in government. She said her goal is to restore hope to the region so residents no longer feel compelled to flee their homes for better opportunities in the U.S.
If this was Biden's first assignment to establish Harris on a core foreign policy issue, it was the wrong issue. This one has been giving American presidents headaches since at least Ronald Reagan was in the White House, and there is no quick fix.
Harris was excoriated for her performance by the right and the left. Biden didn't do her any favors. But she did have a few shining moments.
As the first female U.S. vice president, she spent a large part of her trip focused on elevating women in the region. She met female entrepreneurs in Guatemala and Mexico and announced a $40 million program in the former that will focus on creating opportunities for young, primarily Indigenous women.
The vice president was mindful of her place in history, saying it informed her approach as she toured the region.
"I welcome showing anyone, whatever your race or gender, that you may be the first to do anything, but make sure you're not the last," she said in Guatemala. "And in that way, let's pave a path where we create an opportunity for others to become the first in their family or their community to do those things that perhaps others didn't think they were capable of, but God has given them that capacity to achieve, and with a little help, they will."
Emily Cardenas is the executive editor of The Miami Times. She previously worked as a producer at WTXF in Philadelphia and at WSCV, WFOR and WPLG in Miami.