By Johania Charles, Miami Times Staff Writer –

Color of Change fueled to fight – Six dead, dozens of arrests, suspended social media accounts and at least nine senior-level advisers in Donald Trump's administration left without a job – all resulting from a siege of the U.S. Capitol on a day that now lives in infamy.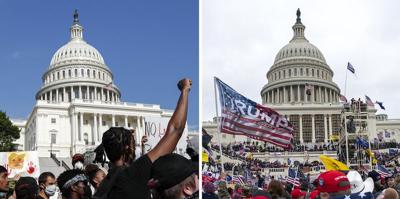 For Black civil rights leaders, the apprehension of a relatively small group of rioters and an FBI investigation into the insurrection is simply not enough.
Color of Change (COC), a national civil rights advocacy organization, is prepared to take charge in demanding accountability from all parties involved, while amplifying the organization's mission. Using its online platform, the nonprofit expects to be more aggressive with ongoing campaigns that urge systems and corporations to stop indirectly supporting white nationalist groups.
To Robinson, the solution is to stop investing in a justice system that fails the Black community and instead, invest in one that keeps all Americans safe.
A long-standing campaign called #NoBloodMoney is one of many ways COC demands accountability. For four years, the campaign has pressured financial service corporations that benefit from hate by doing business with white supremacists. #NoBloodMoney targets major credit card companies like Visa, PayPal, Mastercard and American Express that provide financial support and fund gatherings of such groups.
The nonprofit compelled more than 155 funding sources,including PayPal and Mastercard, to remove their services from hate sites, but – following the events of last week – there is now more urgency to target these financial groups. The organization has relaunched the campaign, calling it #BloodMoney with a focus on GiveSendGo, a conservative Christian crowdfunding platform used by conspiracists and Trumpers, and Stripe, the payment processing software it utilizes.
Mastercard, in response to the Capitol breach, has suspend PAC contributions to members of Congress who objected to Biden's election certification. Other corporations, among them Morgan Stanley, Marriott and chemical giant Dow, have made the same decision.
The rioters at the Capitol, now considered domestic terrorists, bought plane tickets, rioting and party paraphernalia, booked hotel rooms and carried zip ties – all of which required some form of financial support.
Social media and tech companies also are targeted by COC. Facebook and Twitter are two major social media platforms that pro-Trump white nationalist groups use to spread messages of hate and plan gatherings that incite fear in communities of color.
Viral videos and photos after the attack on the Capitol show rioters wearing "MAGA Civil War January 6, 2021" shirts that suggest the attack was planned, not to mention the escalating tweets from President Donald Trump spewing out misinformation about stolen and crooked elections and glorifying violence. Rudy Giuliani's "trial by combat" statement and a promise by Trump to join the rioters in a march to Capitol Hill only tipped over the oil lamp, igniting chaos after months of encouraging violence and rebellion through social media platforms and other outlets.
Robinson said the social media bans now imposed on Trump came far too late, and that he is not surprised by the display of violence and terrorism incited by the lame duck president. After years of calling out Facebook for being a platform that allows recruitment of hate group members, COC recently launched a petition to encourage its members to hold the social networking service company, worth billions, accountable for discrimination, hate speech and misinformation.
Florida Rep. Frederica Wilson shared similar sentiments. She told The Miami Times that she spoke with Capt. Jeanita Mitchell of the Capitol Police Investigations Division about concerns of escalation prior to last week's events.
"She was trying to tell me 'We have it covered.' I told her 'No, you need to reach out to others,'" said Wilson. "'Have you been listening to these people on social media, do you understand how the president is whipping these people up?' She said, 'Yes, Congresswoman, I understand.'
"Because they were white people, Capitol Police had no rubber bullets, no water hoses, no dogs to defend themselves, because the perception is that whites are not as dangerous as Black Lives Matter demonstrators. There was white supremacy and racism on display that day. It was so clear," said Wilson.
Ironically, the attempted coup also is blamed on the success of racial justice organizations, Robinson said.
Organizations empowering Black voters to come out in droves have set new voting records, resulting in successful Black candidates like Rev. Raphael Warnock and Kamala Harris being elevated into prominent elected positions on the shoulders of the Black vote.
"In many ways, our work is winning," said Robinson. "Progress is not a straight line, there will always be attacks and opposition. What this does is send a message to people who have been enabling white supremacists' behavior. It forces people to consider what side of history they want to be on."
Yet the obvious details surrounding the breach left a bad taste in many people's mouths and intensified debates of policing double standards in America. It was no surprise that social media and news outlets exploded with reactions from Black leaders and other elected officials who were outraged by how "easy" it was for a mob of Trump supporters to breach what should have been one of the most secure buildings in the nation. Many questioned the actions of law enforcement present at the scene and whether Black protestors or those of Middle Eastern origin would have been offered the same courtesy as the so called "peaceful protestors."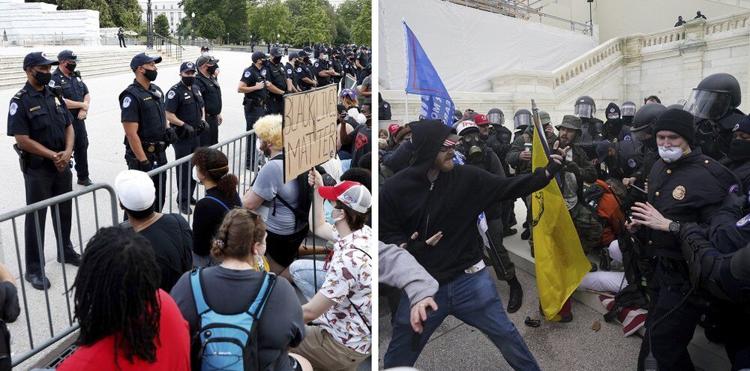 After a not guilty verdict was announced in the Jacob Blake shooting, Kenosha, Wisconsin, brought in the National Guard while storefronts were boarded up in preparation for possible civil unrest. During the Black Lives Matter protests last year, thousands of protestors were met with tear gas, rubber bullets, and the presence of law enforcement and excessive force. At a BLM protest at the Lincoln Memorial, a herd of National Guards stood in place, allegedly in fear that protesters would storm the memorial.
Despite chants of "Hang Mike Pence!" the presence of a noose, more than 11 Molotov cocktails, multiple firearms, and pipe bombs placed outside the RNC and DNC, the pro-Trump mob who violently broke into the Capitol were addressed as American patriots by Ivanka Trump.
"[It was] the most horrific thing I've ever experienced in my time in the U.S. House of Representatives," said Rep. Debbie Wasserman Shultz at a press conference. "We've seen capitals in some of our native countries overrun while we watched in horror, and last week that happened in our own temple of democracy. In the aftermath of that horror, some of my colleagues called out domestic terrorism for what it was, but only just a few."
The Capitol Police – who have always stood by a trained-to-shoot approach – showed great restraint on Jan. 6 as some simply stepped aside and even opened gated barriers that led the mob straight to the building, jeopardizing the lives of legislators who could have been targets for the group's malicious intent.
Wilson described the scene for The Miami Times.
"There were text messages coming through saying take cover. If you are in the office lock the door, stay away from hallways and egress doors. These people were storming offices. You could hear them. They had a targeted group they were looking for. They were trying, I believe, to 'arrest' speaker Pelosi because they were carrying plastic zip tie restraints. I think they were looking for her. I also think they really wanted to hang Mike Pence."
The insurgents, known for usually supporting men and women in blue, were seen on livestreams attacking police officers with metal pipes, discharging chemical irritants and tossing expletives, and were responsible for the sustained injuries that killed officer Brian Sicknick and the trauma apparently drove officer Howard Liebengood to suicide.
"We have to assume that within the Capitol Police, FBI and other agencies that there are Trump sympathizers," said Wilson. "It's going to take a lot of investigating to find out who stopped the pre-preparation … you just can't blame the Capitol Police because in government there is a hierarchy of all these agencies. We know it's going to lead us to the White House. The buck stops there. I'm sure this was on Trump's orders."
Footage of one officer, Eugene Goodman, drawing an armed mob away from the entrance to the Senate floor is also sparking much controversy in the Black community. People have mentioned being infuriated that Black officers at the Capitol were left to fend for themselves after inaction from management and other officers left them susceptible to the vicious, racist mob.
The dichotomy of America lies in janitorial workers of color photographed cleaning up the devastating mess left behind by white supremacists inside a building constructed by slave labor. Images of a confederate flag inside the Capitol also serves as a painful reminder of why racial justice activists do the work that they do.
Legislators and nonprofits led by Black visionaries see the unfortunate events of last week as fuel to their own fire, vowing to leverage their political voice in elections and using alternate platforms to insist accountability is achieved.
Said Robinson in a prepared statement: "Black people are not the problem, we are the solution and are being called to lead. Color of Change and our seven million members will work to do just that until justice is real."
For more on the original article visit: https://www.miamitimesonline.com/news/racism-rocks-foundation-of-american-democracy/article_c90e3b58-5507-11eb-a539-f74a6e71006a.html