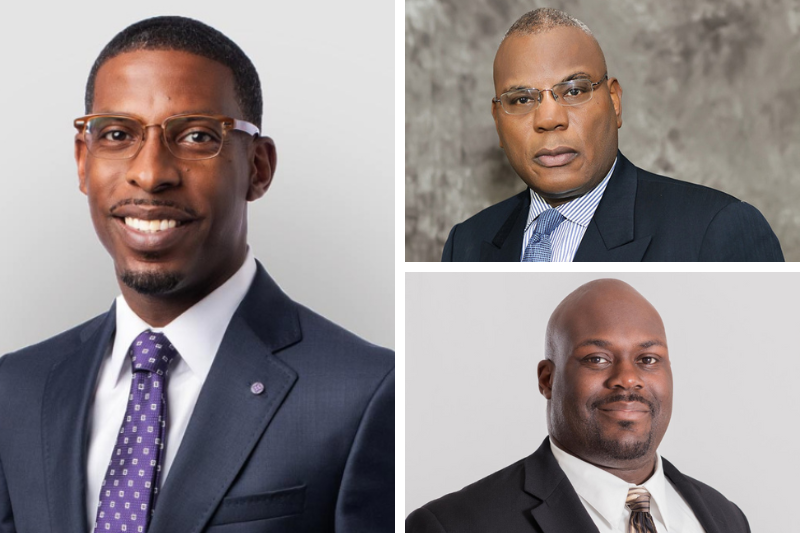 Left, Attorney Mutaqee Akbar, Rev. RB Holmes and Rick Hoye are mobilizing to stop the rewriting of Florida's Black history curriculum.
BY GINA JACKSON, Contributor
TALLAHASSEE — The repeated assaults on civil rights norms and attempts to rewrite the Black history curriculum has triggered a sharp increase in mobilization across the state.
"We as African Americans need to recognize what's going on with the rewriting of our history and deleting it," said attorney Mutaqee Akbar, president of the Tallahassee NAACP.
The NAACP remains the linchpin of civil rights advocacy, making Akbar a member of several diverse coalitions working to create awareness and strategies to stop the erosion of hard-fought gains. "We need to continue to fight to tell our own narrative and educate our children."
Faith leader Rev. RB Holmes of Tallahassee leads the growing number of coalitions organizing to fight the assault on African American culture in Florida.
"It is critically important that all Floridians continue to raise our collective voices on the sacredness and significance of teaching African-American history to all people. Florida law mandates teaching Black history in our public schools. We are calling on the Florida legislature to ensure the teaching of Black history. American history is Black history," Holmes said.
"Florida is where woke comes to die," says Gov. Ron DeSantis. He uses the slogan frequently in this presidential campaign to define Black history as indoctrination designed to make white children feel guilty. Quite the contrary said eighth-grade history teacher Rick Hoye.
"This is part of a naked assault on public education and Black history. It's appalling that [DeSantis] has chosen to demonize the truth as a campaign gimmick," Hoye stated.
But apparently, the strategy is having the opposite effect by decreasing the governor's Florida support and ramping up coalition mobilizations. Statewide, civil rights organizations, churches, activists, sororities, fraternities, and unions are coming together to protect educational and social mandates collapsing under this administration.
Akbar and Holmes have led or helped coordinate four different groups challenging the governor's administrative negligence of the Black History Task Force and the Civil Rights Hall of Fame most recently. The Black History Task Force is an advisory panel to the Florida Department of Education. It has only two voting members and five vacancies, so it is incapable of even making recommendations.
The governor has not made the appointments nor appointed nine members to the Civil Rights Hall of Fame. Hoye, Akbar, and Holmes agree that DeSantis's efforts to erase Black history are, in fact, emboldening their effort to keep it alive.