By  Jacob Ogles – Former Democratic gubernatorial candidate Andrew Gillum revealed in a national interview that he identifies as bisexual.
"I don't identify as gay," Gillum said, "but I do identify as bisexual. And that is something I have never shared publicly before."
Gillum sat down for an interview with Tamron Hall in which he discussed at length an incident in a Miami hotel room where he was found, drunk and nude, in the same place where an acquaintance was being treated for a drug overdose.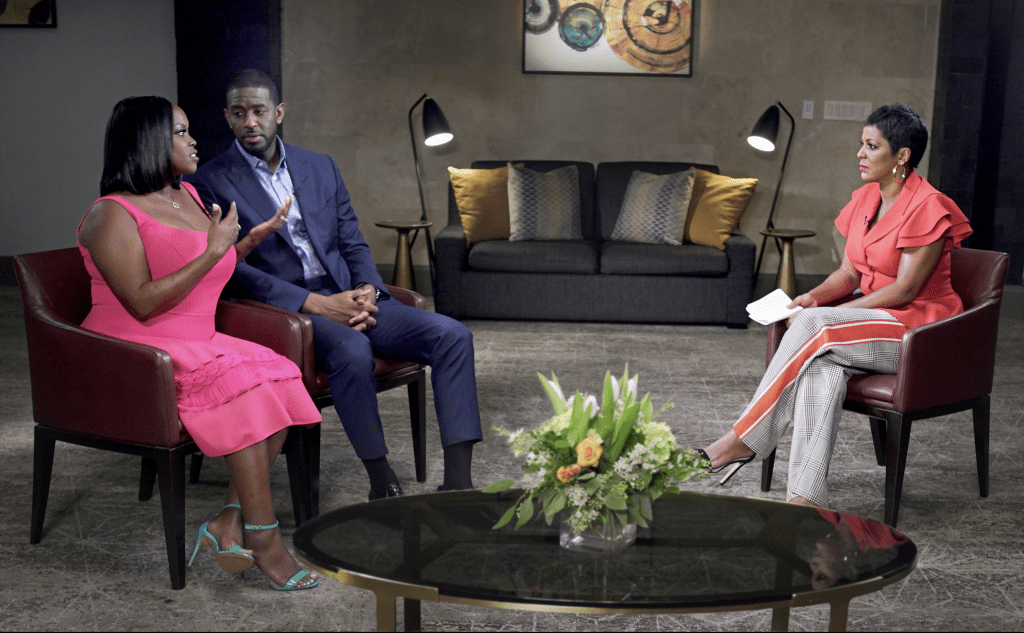 Hall devoted the full hour of the season premiere of the "Tamron Hall Show" to the interview with Gillum and wife, R. Jai Gillum.
In the hour, Gillum revealed that after his close loss to Ron DeSantis in the 2018 gubernatorial race, he began drinking heavily, including putting whiskey in his morning coffee.
He refused direction from R. Jai to seek counseling for depression, and revealed he struggled with his family life at home.
"She barely can abide me, I barely can abide her," Gillum said of his marriage at the time. "Everything the kids do irritates me."
In March, he went to Miami ahead of his wife to attend a wedding, but ended up with an acquaintance he'd known a matter of months, he said. That friend was presumably Travis Dyson.
Gillum said he was drinking before connecting with his friend, and was drinking in the hotel room before blacking out for three hours. He said he still has no memory of most of the night, and woke up to be surrounded by police and being told his friend overdosed.
Gillum had ignored about 50 phone calls from his wife at that time, R. Jai told Hall.
Gillum said he is fully aware of speculation he was in a sexual relationship with Dyson. But he said there was no romantic relationship with his friend.
"The reason why I went to that room is probably no different than how somebody might communicate with someone they are in a friendship, relationship, whatever with," he said. "I understand very well what people assume about that."
Hall raised the topic of Gillum's sexuality, but said she was remiss to ask a question because being gay would not disqualify a politician from office.
Gillum circled back to that however, and made clear he identifies as bisexual.
Jacob Ogles has covered politics in Florida since 2000 for regional outlets including SRQ Magazine in Sarasota, The News-Press in Fort Myers and The Daily Commercial in Leesburg. His work has appeared nationally in The Advocate, Wired and other publications. Events like SRQ's Where The Votes Are workshops made Ogles one of Southwest Florida's most respected political analysts, and outlets like WWSB ABC 7 and WSRQ Sarasota have featured his insights. He can be reached at jacobogles@hotmail.com.
For more on the original article visit: