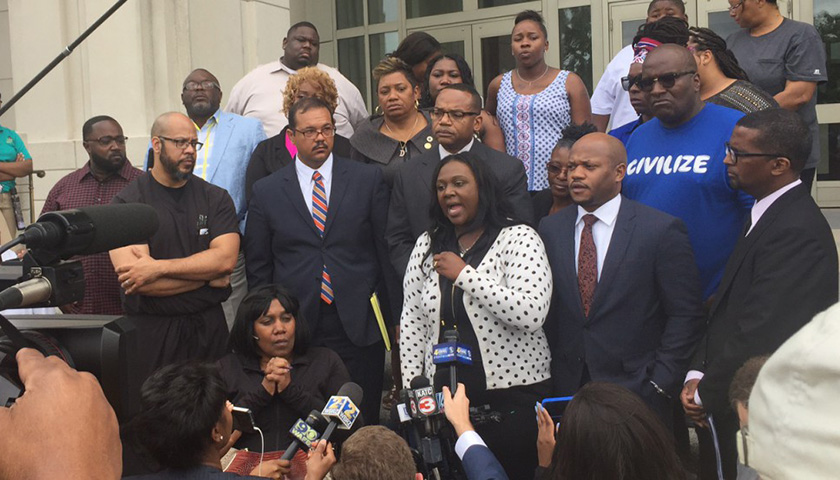 By Michele McCalope
BATON ROUGE—Following a 10-month investigation into the extrajudicial killing of Alton Sterling, Louisiana's Attorney General Jeff Landry announced that his office would not pursue criminal charges against the officers involved.
Sterling, a 37-year-old Black man, was shot six times by a White Baton Rouge police officer on July 5, 2016, in front of a Triple S convenience store. The officers, Howie Lake II and Blane Salamoni were responding to a call about a man with a gun, who was assaulting someone. Sterling had been selling CDs in front of the store with permission from the owner.
Officials said Salamoni shot Sterling, while Lake, his partner, looked on.
"After careful thought and review of the evidence, the Louisiana Department of Justice will not proceed with prosecution of Officers Lake or Salamoni," Landry said. "This decision was not taken lightly."
Landry said his office thoroughly investigated the case, even re-interviewing witnesses in the case. He said the evidence just didn't warrant pursuing criminal charges.
"We must analyze the evidence and draw a conclusion, but we're always mindful of the family," Landry said. "I know the Sterling family is hurting."
The Attorney General's office received the case in May 2017, after the U.S. Attorney for the Middle District of Louisiana determined during its own investigation that there was not enough evidence to pursue criminal charges or civil rights violations.
Family members, community leaders, and the Sterling family's attorneys said that they weren't surprised by the latest findings.
"We didn't get any justice,' said Quinyetta McMillon, the mother of Alton Sterling's son, Cameron. "The system failed us. We're all out of tears. We all knew what it was going to be. We may not get justice down on this earth, but when God comes…as a family, we just got to stay strong."
Community activist Gary Chambers was more direct.
"It was total B.S.," Chambers said.
Sandra Sterling, Alton Sterling's aunt, said that, putting "Blane Salamoni back on the street, you're putting a murderer back on the street."
Sandra Sterling has suffered two strokes since the incident.
"Shame on you Blane Salamoni," she said. "You took an oath to protect and serve, not protect and kill."
Sterling's attorneys are filing a civil suit and have called for the firing of both officers, who have remained on paid leave since the incident. Together, the officers have been paid more than $130,000 in salary while on leave.
"We're putting the city of Baton Rouge, the mayor and the metro council on notice," said attorney Michael Adams. "We're disappointed, but this fight is not over. We have filed a civil suit and justice will be served. The officers will have to talk to us and explain their actions. Baton Rouge will have to hear the truth about what happened. We plan to put it all out there in the light of day."
Meanwhile, Baton Rouge Police Chief Murphy Paul said a disciplinary hearing has been scheduled for the officers, this week, so police can determine if any policies or procedures were violated.
The officers will have a chance to tell their side of the story to the chief and his three deputies. The hearing will not be open to the public.
"We're asking the community for a little more patience and to keep our community in your prayers, so we can begin the healing process," Paul said.
Paul also said all videos, audio, and 911 calls regarding the incident will be released after the disciplinary hearings for the officers conclude.
Mayor Sharon Weston Broome, who has already said publicly that she wants the officers fired, said during the press conference that she still feels that way.
"Our focus for our community, city and parish is to have justice and equity not just for some, but for everyone," Broome said.