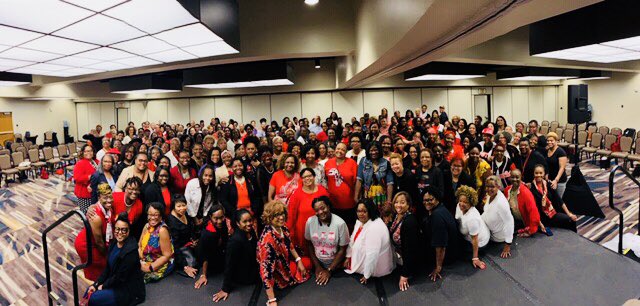 When Hurricane Barry forced Delta Sigma Theta sorority to end its national convention in New Orleans early, the sorority quickly switched from conference mode to service mode.
It donated 17,000 meals it planned to serve at a final conference luncheon Saturday to disaster relief efforts in preparation for Hurricane Barry. The meals included macaroni and cheese, chicken, chocolate cake and potatoes au gratin all for the Second Harvest Food Bank, an emergency food assistance program.
Formerly a Category 1 hurricane, the weather system that hit New Orleans Saturday was downgraded to a tropical storm, but not before it knocked power lines down and flooded streets across the Gulf Coast.
Nearly 16,000 people registered attend the sorority's biennial conference.
Beverly E. Smith, the national president and CEO of the sorority, told the Washington Post the sorority was "delighted" to donate to recovery efforts.
"There was inordinate amounts of food that would have been wasted," she told The Post.
Jay Vise, the communications director with Second Harvest, said it was held in a refrigerator over the weekend and started going out to families Monday.
"We sent a 53-foot truck out here to capture all this food — not just capture it, rescue — all this food that otherwise would've gone to waste," Vise said.
Although Barry didn't bring nearly as much rain as weather experts anticipated, Vice said some of the food is being staged to go out to shelters.
Anything that doesn't get used in disaster response efforts will be donated to food pantries and shelters as they need them.
Vice said Second Harvest partners with some 500 organizations.
"So the food absolutely will get to a good home," he said.